HOCO Dance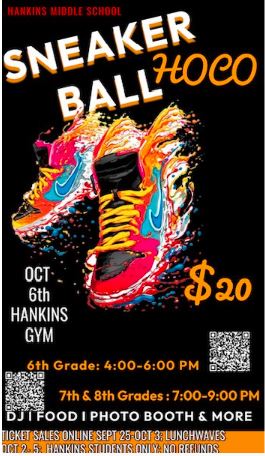 ---
Student Requirements
You must NOT have been suspended or served more than one session in REFOCUS/INTRACT between September 12 -October 6, 2023, for first quarter.
Girls – Semi-formal dress. May wear knee length dresses.
No mid-drift

No strapless

No two-pieces
Boys - Must wear shirt with collar and dress pants. Sport/suit coats are allowed.
*** NO REFUNDS WILL BE GIVEN FOR ANY REASON ***
SHOES: favorite sneakers or comfortable dress shoes
Additional Information
Only HMS students may attend the dance.

Your Queen and court will be presented at the dance.

DJ/ Photo Booth

Refreshments will be sold.

No book bags. The office phone will be available for emergencies.

The carpool rules will be followed for student pick-up after the dance.

All students will exit the dance via E-Hall doors and meet their ride in the everyday carpool area.

Students will NOT be allowed to walk home or meet their transportation in another area.

Mobile City Policemen will be on duty to assist with traffic and security.

Students will NOT be allowed to leave the dance early unless a parent/guardian (must be at least nineteen) comes into the dance and escorts them out.

Parents are invited to attend the call-out program.